Cop on /kɒp ɒn/. Verb. (Irish, idiomatic). Exhortation to stop behaving immaturely. "Would yeh ever cop yourself on, yeh gobshite?"
Cop on (alt. cop-on ). Noun.  Common sense. "You could say that people need to have a bit of cop-on about their own safety."
---
It's not an idiom that I hear very often in England, but phrases like "Cop on, for feck's sake" [1]  are riven into the fabric of Irish conversation. The closest direct 'translation' to British English is something like "Grow up, would you?", but that doesn't capture the tone of scorn and pillory in quite the same way.
When it comes to certain aspects of my blogging and YouTube activity, I've got to confess that I should have copped on much, much sooner.
Those of you who were previously subscribed to this blog and/or my YouTube channel will know that about eighteen months ago I took them both offline. I've been regularly contributing online elsewhere in the intervening period – for example, this, this, this, and this [2] — but since the end of 2016 have chosen not to write posts nor create videos for a personal blog or YT channel. Before I outline just why I curtailed my blogging and 'vlogging' (and there have been some bizarre and bonkers theories circulating in certain quarters online as to why I did this), I guess I should explain my reasons for restoring the Symptoms… blog at this point in time.
On average, once or twice a week over the last eighteen months I'd get an e-mail from someone who had followed a link to a blog post I'd written and been greeted by this. In parallel, I'd receive messages from friends and colleagues asking about the demise of the blog. The number of e-mail enquiries also spiked recently as a result of this very kind comment under a Sixty Symbols video I did with Brady Haran last month:
I've, of course, also received very many rather less complimentary comments and e-mails, including long expletive- and vitriol-ridden screeds repeating long-debunked 'science' on gender/race (repeatedly), as a result of my online contributions. More on the reasons for this below. (I tend to preface my response to that type of e-mail with some variant of this trigger warning, which I've used on more than one occasion in previous posts.)
Often I'd find myself cutting and pasting particular blog posts from the archive and sending them to those who'd contacted me by e-mail. This is time-consuming and just a little silly when I could just have made the posts available online. (And I'll take this opportunity to say a massive thank you to all who contacted me over the months to offer their best wishes and support. I owe you all a pint or two, or whatever your preferred tipple might be. [3]).
So that's one reason for resurrecting the blog. Another is that I just enjoy writing. A lot. I find it immensely cathartic and I've missed regularly putting virtual pen to virtual paper to organise my thoughts and, of course, to vent my spleen. On occasion.
And, yes, I'll come clean — another reason is this:
I plan to write a number of posts expanding on themes in this book after it's published in August. For now, this preview covers some of the motivations behind writing the book:
Notwithstanding that embedded preview above, what I haven't missed one little bit is video making. I hate, hate, hate video editing. For one thing, I have to watch and listen to myself drone on and on. This is about the least edifying experience I can imagine. I exist in a permanently caffeinated state so cannot sit still (or for that matter stand in one spot — I cover miles of floor during an hour-long lecture); this leads to lots of annoying presentational 'tics'. Coupled with the many software crashes I experience when editing, video creation becomes an intensely irksome chore.
So, I'll not be going back to a personal YT channel for debates and discussion (although I'll continue to work with Brady Haran and Sean Riley, if they'll have me, for Sixty Symbols and Computerphile. No editing in that case! I just hand over, to Brady and Sean, the unenviable task of cutting my long rambling explanations down to size.)
In any case, and leaving aside the irritations of the editing process, there are other very good reasons for eschewing YouTube 'engagement'. Over to the wonderful xkcd…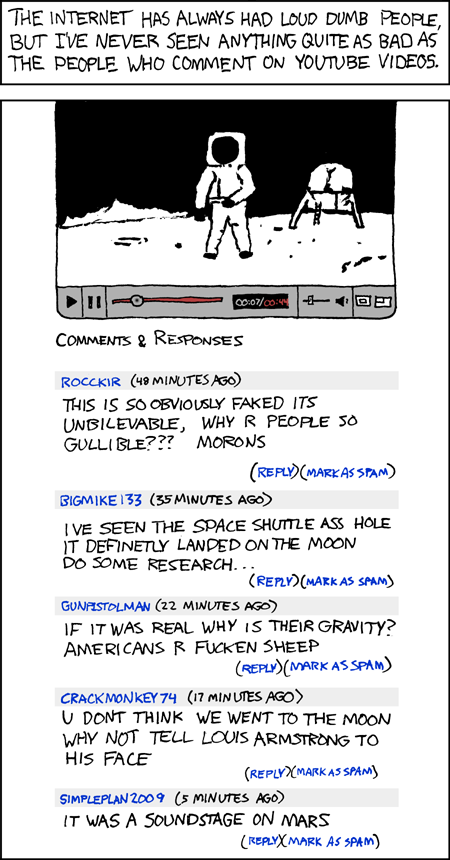 (This article highlights some of the reasons why, more generally, YouTube is "home to the most toxic comment section on the web".)
But YouTube, of course, does not hold a monopoly on uninformed, knee-jerk, and semi-literate comments sections. As Philip Ball points out, the Guardian's below-the-line commentary is far from the most erudite at times…
Yet despite the vacuity and vitriol of online commenting, for many years I 'engaged' energetically and frequently. As anyone who was subscribed to my YouTube channel knew, I spent  wasted an inordinate amount of my time addressing a significant number of the many hundreds of comments under the videos I uploaded. As I saw it, I was a publicly-funded academic and therefore I had an obligation to engage. (And, more importantly, it's often a heck of a lot of fun to chat with those who are interested in and enthused by science).
Friends and colleagues told me time and time again not to get involved "below the line"; not to get drawn in; not to attempt to counter the many semi-literate and misinformed comments that are the mainstay of the lower half of the web. But I argued in return that, no, some exchanges were indeed helpful and could lead to productive discussion or, indeed, could produce crowd-sourced research data and ideas.
But therein lies the rub: some exchanges. Some. And that "some" turns out to be a vanishingly small fraction of the total.
For both my YT channel and the earlier incarnation of this blog, my approach to commenting policy was breathtakingly naive. I didn't block in any way. I didn't moderate in any way. Everything, other than pure unadulterated spam, was allowed through. Even this piece of vicious libel:
and this more typical bile:
If you're questioning my sanity at this stage, I don't blame you: Why didn't I block, filter, delete, and/or incinerate those types of comment? As described in a post I wrote for the LSE Impact Blog last year, I had my reasons. Vacuous and vapid those reasons may well have been, but I convinced myself that there was a method to the madness.
There wasn't.
Peter Coles, whose In The Dark I enthusiastically and regularly recommend, helpfully puts the numerical meat on the bones of my statement above re. the "vanishingly small" fraction of constructive comments in the context of his own blog:
If you're interested, as of today, 28,781 comments have been published on this blog. The number rejected as SPAM or abuse is 1,802,214. That means that fewer than 1 in 60 are accepted.
1.8 M comments rejected. 1.8 million!
Moreover, when criticism, abuse, and even toothless threats (like that in the screenshot above) are directed at me I'm willing to take them on the nose. (And did. Regularly.) Abuse and threats directed at those close to me I was rather less willing to tolerate. (Hence the extended absence of this blog and the now-defunct YT channel).
Fortunately, I've copped on now. At long last. For all of the reasons discussed in that LSE Impact Blog post, there'll be a much less laissez-faire approach to comment moderation at Symptoms… from now on. I'm adopting Peter's strategy:
Since WordPress notifies me every time a  comment is posted, it is quite easy to remove this junk but I found it very tiresome (when there were several per day) and eventually decided to change my policy and automatically block comments from all anonymous sources. Since this requires a manual check into whether the identity information given with the comment is bona fide, comments from people who haven't commented on this blog before may take a little while to get approved.

There are still comments on here which may appear to a reader anonymous (or with a pseudonym) on here, but these are from people who have identified themselves to me with a proper email address or who the software has identified through their IP address or information revealed by their web browser (which is probably more than you think…). I'm happy for people to comment without requiring they release their name to the world, and will do my best to ensure their confidentiality, but I'm not happy to publish comments from people whose identity I don't know.
Just for those who'll clutch their pearls tight and whine about freedom of speech (while entirely misunderstanding the concept) let me repeat a paragraph from Chuck Wendig's great post, "Don't read the comments: Comments sections are our own fault". (I've cited this regularly before).
"And here you might say, 'Buh-buh-wuh!' And you'll stammer out something about democracy and freedom of speech and censorship. But I'd ask you shift your POV a little bit. Look at a comments section like it's the letter section of a newspaper… The letter section was not a free-for-all. They did not print the rantings of every froth-mouthed cuckootrousers who wanted to air his conspiratorial, hate-fuelled grievances with the world. They moderated those letter sections."
Where Two Tribes Go To Roar: Reprise
OK, let's now turn to address the pachyderm in the playpen. At least some of you reading this will likely be aware of a couple of rather-less-than-flattering videos about me that were made, very soon after I took my blog and YT channel offline, by a YouTuber who goes by the name of thunderf00t . As that linked Wiki article describes, 'thunderf00t' is a PhD chemist and researcher whose real name is Phil Mason.
As an important aside, I should stress that this information about Mason is available readily online — it's been in the public domain for a long, long time. (Google "thunderf00t", for example). I have been wrongly accused by some of supporting "doxing" — the release of private information — but this is something that I have never condoned and would never condone under any circumstances. I have only ever used information that is already in the public domain (with the individuals' knowledge) in my interactions and arguments with Mason and others.
Of course, no amount of evidence supporting my point here (or on any other topic for that matter) will ever convince those who are viscerally opposed to my left-leaning stances on social justice, diversity, and equality. As Tom Nichols describes in "The Death of Expertise", and I cannot recommend his book highly enough, evidence is all too readily dismissed or distorted when it doesn't align with our ideological biases. (And we are all guilty of this to a greater or lesser extent. Yes, even you.)
Similarly, what I have always found striking throughout my time online is that those who claim vociferously to be solely driven by reason, logic, science, rational debate, and/or individualism — aka the Fuck Your Feelings (FYF) brigade — are often among the most hypersensitive, overwrought, tribal, and emotionally driven out there. The type of over-emotional response that the FYF tribe attribute to the big, bad bogeyman of "The Left" is equally, and often more, prevalent within their own ranks. (There are key parallels here with the deeply intolerant patriotic correctness of the right.)
As a telling example of this type of knee-jerk visceral reaction, I was amused that very soon after Phil Mason uploaded his videos about me, a video of a TEDx Derby talk I gave back in 2014 received a massive upsurge in downvotes (and abusive comments) over the space of a few days. That particular video had attracted a grand total of five dislikes over the course of the preceding two and a half years.
Does that TEDxDerby video mention social justice? No.
Gender balance in physics? No.
Anything vaguely sociopolitical? You guessed it. No.
It's instead a video about the problems with YouTube edutainment and the associated culture of 'soundbite' education. Nowhere in that video do I even touch on any of the themes over which Mason and I have bickered; the downvoting had nothing to do with the content. It arose because of a highly charged and emotional reaction to me, not the themes discussed in the video. "He's a damned dirty SJW." (Those who would argue that YouTube, of all things, is a great example of the "Marketplace of Ideas" in action should pay attention here. Or, more simply, they could just pin that xkcd cartoon up on their wall for future, and frequent, reference.)
Similar reactions have ensued when Sixty Symbols or Computerphile videos to which I contributed have been uploaded over the last eighteen months. Videos with entirely scientific content — discussions of, for example, X-ray standing wave experiments, error bars, interatomic and intermolecular forces, the physical limits of computing etc. — often attract comments about me and my politics, not the science. That particular type of commenter is so invested in their dislike of me that they simply can't get past their deep emotional reaction. They also want everyone watching the video to know about it — to signal to their tribe — so they post a comment, instead of simply ignoring the video. And yet these self-same individuals whine incessantly about "snowflakes" placing emotion over reason, echo chambers, and 'group think'. As a certain right-of-centre British journalist is very fond of saying, you couldn't make it up.
Were my dealings with Mason my finest hour? Most certainly not. I have much to be embarrassed about. The key exchange is here. Make up your own mind as to who was 'trolling' whom. I should have walked away much earlier because it was absolutely clear that it was going nowhere and was a pointless waste of time and effort. It was also petty and childish of me to continually pressure Mason into agreeing to publish the email trail. I revealed some fairly unattractive character flaws in that exchange.
The tribal nature of the online "SJW vs anti-SJW" wars [4] also underpinned my spat with Mason. For one thing, I deeply and bitterly regret my connection to this exceptionally childish video. Mason was absolutely right to pillory this. What he perhaps didn't know was that I was not given the courtesy of seeing that video before it went online. I had absolutely no idea that the MP3 (of a reading of the e-mail trail) I naively provided would be used in quite that way. I was also entirely unaware at the time of the exchange that the death of Mason's father had previously been shamefully used against him in other online spats. To clarify these points, and months before I took my channel and blog online, I had included this in a video response to Mason (but it's of course entirely possible that he did not see that video.)
As noted in my earlier posts, Mason has gained a reputation online for cherry-picking, for quote-mining, and for ripping statements entirely out of context in order to cast others in the worst possible light. We can argue, as many incessantly do, about the extent to which these accusations are valid. (I would certainly argue that my views and character were misrepresented in his videos about me. But then I would, wouldn't I?! See the blog posts linked above, particularly this, for a somewhat more nuanced and contextualised discussion of my views).
Character assassination, however, is not limited to one side of the ideological divide. Mason may have some character flaws (who doesn't?), but is he a Nazi? No. Is he a sociopath? No. While I disagree fundamentally with his stance on sexual dimorphism (and his associated attitude to feminism) [5], demonising Mason to that extent — and, more broadly, demonising all those whose ideology and politics don't align with the tribe, be it left- or right-leaning — is hardly in line with the empathy and consideration that those of us who espouse social justice would like to see in society.
For one thing, the accusation of sociopathy does not sit at all well with Mason's admirable denouncement of the odious behaviour of a group of YouTubers who gleefully gloated about the murder of Heather Anable hours after her death:
I should note that although I never met Heather, I had exchanged a number of direct messages (DMs) with her via Twitter and Facebook. Heather was a kind, perceptive, smart, and empathetic person who was the very first to call out the type of tribalism that underpins so much online behaviour; she always tried to see the best in everyone.
It is to Mason's immense credit that he took a stand and made the video above. Whatever ideological differences he and I might have (and, as should be abundantly clear by now, there are very many), that was a fundamentally decent thing to do. Mason demonstrated a great deal of integrity in uploading that video as he must have been aware of just how much opprobrium he would attract from the so-called "skeptic" community [6]. (I also strongly recommend Noel Plum's careful and considered analysis of the subsequent fallout.)
As noted above, I am suitably shame-faced about descending into the mire online. This post by Robert Lea accurately, forcefully, and eloquently points out that it is far from a "good look" for academic researchers (at any career level) to conflate the professional with the personal and indulge in pathetic playground squabbles online…
Academia, ladies and gentlemen: challenging each other to pathetic toothless debates on a video sharing site for the benefit of their already partisan subscribers.
Ouch. Harsh but entirely fair. I, for one, have nonetheless learnt a number of memorable and sobering lessons from the spats outlined above. I'm fifty next month so at this point I'm long overdue to have finished growing up in public. I'm keeping out of the playground from now on. If, however, you see me pointlessly embroiled in some juvenile war of words in a comments section down the line, please don't hesitate to tap me on the shoulder (virtually or otherwise) and tell me to cop on to myself…
---
[1] And, of course, the version with the other f-word. The bad f-word.
[2] My next blog post, "The truth, the whole truth, and nothing but..?", will expand on the themes outlined in that video, which ruffled a few feathers. There's nothing quite like being told precisely how science works by someone who has never carried out research, published a paper, peer-reviewed a manuscript, sat on a review panel, written a grant application, attended a scientific conference etc… That special blend of arrogance and ignorance to which Tom Nichols refers is indeed ubiquitous.
[3] Thanks, in particular, to my friend Claudia Brown for taking the time to make this video.
[4] If you're unfamiliar with the SJW pejorative, count yourself very lucky indeed. To get deep insights into the origin of that "SJW" term and, more broadly, the social justice wars online (and how those battles bleed offline), I recommend all of the following: Kill All Normies, This Is Why We Can't Have Nice Things, and Alt-Right: From 4chan To The Whitehouse. (And, contrary to loud protestations from certain quarters, there are just as many "SJWs" on the right of the political spectrum as there are on the left. It's just that a different type of "justice" is being espoused in each case…)
[5] On that sexual dimorphism issue, I recommend you stop reading this overlong post right now and beg, borrow, or steal — or better, shell out your hard-earned cash for — Angela Saini's wonderful Inferior. Jess Wade wrote a great review of Saini's book for Physics World last year. Here's the closing paragraph:
"Inferior is an engaging and harrowing study that easily moves between eras, continents and disciplines. Saini is a meticulous researcher whose attention to detail is evident in her interviews with scientists behind some of the biggest results in neuroscience and psychology. Instead of writing around the issue of representation of women in science, Saini identifies what science has got wrong about women."
(By the way, if you find yourself incensed by the closing sentence in that extract from Wade's review please bear the trigger warning in mind before diving into the comments section.)
I refer to Saini's book not infrequently in this lengthy chat with Claudia last year, which was uploaded shortly after the James Damore fiasco:
[6] As oxymorons go, it doesn't get better than "the skeptic YouTube community". See also #7 in these seven rules of engagement.