It's the same old story, same old song and dance, my friend…
Same Old Song and Dance, Aerosmith. Track 1, Side 1, "Get Your Wings" (1974). Perry/Tyler. Lyrics © BMG Rights Management
---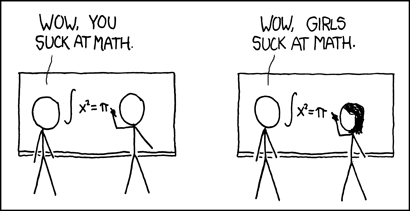 Zombie arguments are the lifeblood of the internet. Resistant to all counter-evidence, it doesn't matter how often they're shot down — they will arise (under a pale gray sky[i]) to live and breed again. The reason for their immortality is laid out in a classic post by David McRaney entitled The Backfire Effect[ii]:
The Misconception: When your beliefs are challenged with facts, you alter your opinions and incorporate the new information into your thinking.

The Truth: When your deepest convictions are challenged by contradictory evidence, your beliefs get stronger.
Or, as McRaney puts it further down that post:
The last time you got into, or sat on the sidelines of, an argument online with someone who thought they knew all there was to know about health care reform, gun control, gay marriage, climate change, sex education, the drug war, Joss Whedon or whether or not 0.9999 repeated to infinity was equal to one – how did it go?

Did you teach the other party a valuable lesson? Did they thank you for edifying them on the intricacies of the issue after cursing their heretofore ignorance, doffing their virtual hat as they parted from the keyboard a better person?

No, probably not.
The Backfire Effect in turn underpins Brandolini's Law:
The amount of energy needed to refute bullshit is an order of magnitude bigger than to produce it.
aka The Bullshit Asymmetry Principle.
The wholly biased presentation on gender bias in science given by Alessandro Strumia at the end of last month featured a veritable army of zombie arguments. These were, of course, unblinkingly accepted by those who share Strumia's ideological bias:
Without wanting to get too 'meta' here, Damore's "I've not seen anyone address the points this put-upon man has raised" claim is itself a zombie argument.  Each time an aggrieved and over-emotional gentleman decides to put across personal opinion, bias, and methodologically-unsound analysis of gender differences as "The Truth" (unfailingly covered up by The Big Bad Establishment[iii]), their 'arguments' are addressed and rebutted. As just one example, Strumia's pseudoscience was dissected and demolished very quickly by his fellow particle physicist Jon Butterworth in a masterful blend of snark, satire and sharp insight.
You might, therefore, quite reasonably ask just why I'm returning to this theme. Hasn't Strumia had his 15 minutes of fame and shouldn't we just ignore him now, given that, for one, his = <Ncitations> pseudoscientific nonsense has been thoroughly rebutted? I have quite some sympathy for that view, I must admit, but I'm exhuming the corpse of Strumia's pseudostats, and returning to the zombie fray, in order to provide a direct response to David Allen, who left a series of comments and questions under my "The Worm That (re)Turned" post on Strumia. David's questions and comments were made in a very polite and genuine manner. He deserves a considered response. I'll address David directly from here on in.
DA: So what explains the tendency for nations that have traditionally less gender equality to have more women in science and technology than their gender-progressive counterparts do? That question is posed here: https://www.theatlantic.com/science/archive/2018/02/the-more-gender-equality-the-fewer-women-in-stem/553592/
…
Unless there is a consensus of credible proof that the reason for low women numbers n STEM is that they are being discriminated against in some way, I personally will elect to believe it is down to their free choice and agency rather than down to victimhood.
[David's full comment is here.]
First, David, this is the third in a trilogy of posts entitled "The Natural Order of Things?" that I've written[iv]. (Parts I and II are here and here, respectively.) I'm therefore going to be repeating myself to some extent. Again. But such is the nature of zombie arguments. Let's go through the points in your comments one by one.
Before dealing with the gender equality article you cite, and subsequently getting into the weeds of Strumia's beliefs, let's deal with that "proof" word you use repeatedly in your comments. Science is not about proof; any credible scientist knows this. I've lost count of the number of times I've quoted Carlo Rovelli on this point (but then his statement about scientific 'proof' bears repeating ad infinitum):
The very expression "scientifically proven" is a contradiction in terms. There's nothing that is scientifically proven. The core of science is the deep awareness that we have wrong ideas, we have prejudices. We have ingrained prejudices. In our conceptual structure for grasping reality, there might be something not appropriate, something we may have to revise to understand better. So at any moment we have a vision of reality that is effective, it's good, it's the best we have found so far. It's the most credible we have found so far; it's mostly correct.
So, let's leave aside the naive and simplistic idea that there's a definitive deductive "proof" one way or the other. The key issue is the extent to which the scientific evidence supports a given claim. If there is insufficient evidence and/or a lack of consensus in the studies the very best we can be is agnostic. Anything else would be unscientific. I hope we can at least agree on this.
So let's take some time to explore exactly what the graph of "Global Gender Gap Index vs % women among STEM graduates" discussed in the article actually means. First, what is the Global Gender Gap Index (GGGI)? How is it calculated, David? Do you know? I certainly didn't until recently.
As the Index is rewarding a greater ratio, lower development values are rewarded (i.e. lower healthy life expectancy). Consequently, since the gender gap was the same in Denmark and Rwanda in 2016, but Rwanda had a lower life expectancy, they performed better on the Index (13 places better than Denmark). This problem becomes more and more serious when the overall level of development decreases and the gender gap increases.
Always look beyond the headlines, David. Question the methodology. Be sceptical — or, if you must, be skeptical — and think critically, rather than blindly accept an analysis because it's got lots of numbers, and graphs, and looks "sciencey". (More on this soon.)
Taken in isolation, there's a distinct absence of error bars on that graph above. How are we supposed to know whether any of those relative country placements are statistically significant? It's clear from the distribution of 'data' on the graph that a 'resolution' down to the third decimal place has been used to place the points. How is that justified? Moreover, it's exceptionally weak to just do a naive linear regression without showing (or knowing) the effective uncertainty in each of the points. (But how would we accurately determine an uncertainty for each point?) Even then, because the methodology in generating the index is flawed, the numerical analysis is always going to be suspect.
"Some would say that the gender stem gap occurs not because girls can't do science, but because they have other alternatives, based on their strengths in verbal skills," she said. "In wealthy nations, they believe that they have the freedom to pursue those alternatives and not worry so much that they pay less."

Instead, this line of research, if it's replicated, might hold useful takeaways for people who do want to see more Western women entering stem fields. In this study, the percentage of girls who did excel in science or math was still larger than the number of women who were graduating with stem degrees. That means there's something in even the most liberal societies that's nudging women away from math and science, even when those are their best subjects.
It is necessary and true that all of the things we say in science, all of the conclusions, are uncertain, because they are only conclusions. They are guesses as to what is going to happen, and you cannot know what will happen, because you have not made the most complete experiments.
The authors say that their study disproves the "variability hypothesis", which suggests that male over-representation in STEM careers comes from a greater variability in grades among boys than girls (

Nature Communications9 3777

).

 

By analysing the grade distributions, the researchers found that the top 10% of grades in STEM subjects had an equal gender ratio, while non-STEM subjects were female-heavy. "Our results support greater male variability in academic performance, but they don't support gender differences in variability as an explanation for gender differences in workforce participation because we find the smallest gender differences in variability in maths and science," O'Dea told Physics World.
(Note that I dislike the use of the term "disproves" in the preceding quote for all of the reasons discussed above.)
Strumia not only runs with the "variability hypothesis", he decides he's going to arbitrarily cherry-pick the cut-off point he needs in order to "fit" his data. This is not, to put it mildly, credible analysis.